In August 2021, we are making some exciting changes to our existing subscriptions plans.
First, after months of behind-the-scenes work, we're finally ready to introduce the new Pawfit Premium Subscription Plan!
The Premium plan has been developed based on the feedback we have received from Pawfit customers over the last year.
That's right, Walk time limits are INCREASING plus, loads of other new features that you've asked for are coming as part of the Premium subscription plan.
Next up, we're pleased to announce the new 24-month subscription plan, allowing you to subscribe to Pawfit for even less.
With the introduction of the Premium Plan and 24-month subscription plan, we are updating our Pawfit Gift Bundles to include these new offerings.
We're also pleased to inform you that going forward, customers will be able to pay for the subscription and shop on the Pawfit website using their credit and/or debit card as well as PayPal.
Finally, we also want to let you know that as of the 1st of August, we will be updating our subscription plan prices and making a small price for some plans (details below).
A closer look at the new Premium subscription plan
With the new Premium Subscription plan, you can:
Increase Pawfit Walk time limits to 4 or 6 hours
Increase the location update frequency during Walk to every 20s or 40s
Access more Walk and Activity history data
Download data in multiple formats
Switch to Ordnance Survey and OpenStreet
Why do these features cost extra?
To put it simply, the reason we've had to create a new Premium Plan for these features is because they use a lot more data than is covered by the price of the Basic subscription plan. So, in order to provide the additional features that customers have requested, we've had to charge a little more for them.
Ready to upgrade to the new Premium subscription plan? Great, here's everything you need to know.
Customers on a basic plan will be able to upgrade to the new premium plan on the same level of plan they are currently on or to a longer length of plan. E.g., a customer on a 12-month plan can upgrade to a premium level plan for 12 or 24 months. They will not be able to downgrade to a 6-month premium plan.
To upgrade your subscription plan, you'll need to update to the latest version of the Pawfit App which will start being rolled out from the 1st of August.
Eligible customers will then see an upgrade option on their subscription card. Customers will be asked to verify their information and a member of the customer service team will be in touch to start the upgrade process.
Want to stick with the Basic subscription plan? Not a problem!
You'll still have access to all the features you know and love on the Basic subscription plan.
Changes to subscription plan prices
Subscription price changes will come in to affect from the 1st August 2021 and will be applied to all new subscriptions from this date.
Customers who are on an auto-renewal plan will not be affected by this price change and their subscription costs will stay the same. If customers switch to a different plan, they will be subject to the new prices.
Price changes:
UK (GBP): the cost of the 1-month subscription plan will be increasing to £5.79. The cost of the 6-month and 12-month subscription plans will be staying the same. The new 24-month subscription plan is priced at £3.39/month.
EU (EUR): Due to post-Brexit tax changes, the Euro subscription fees will be increased as follows: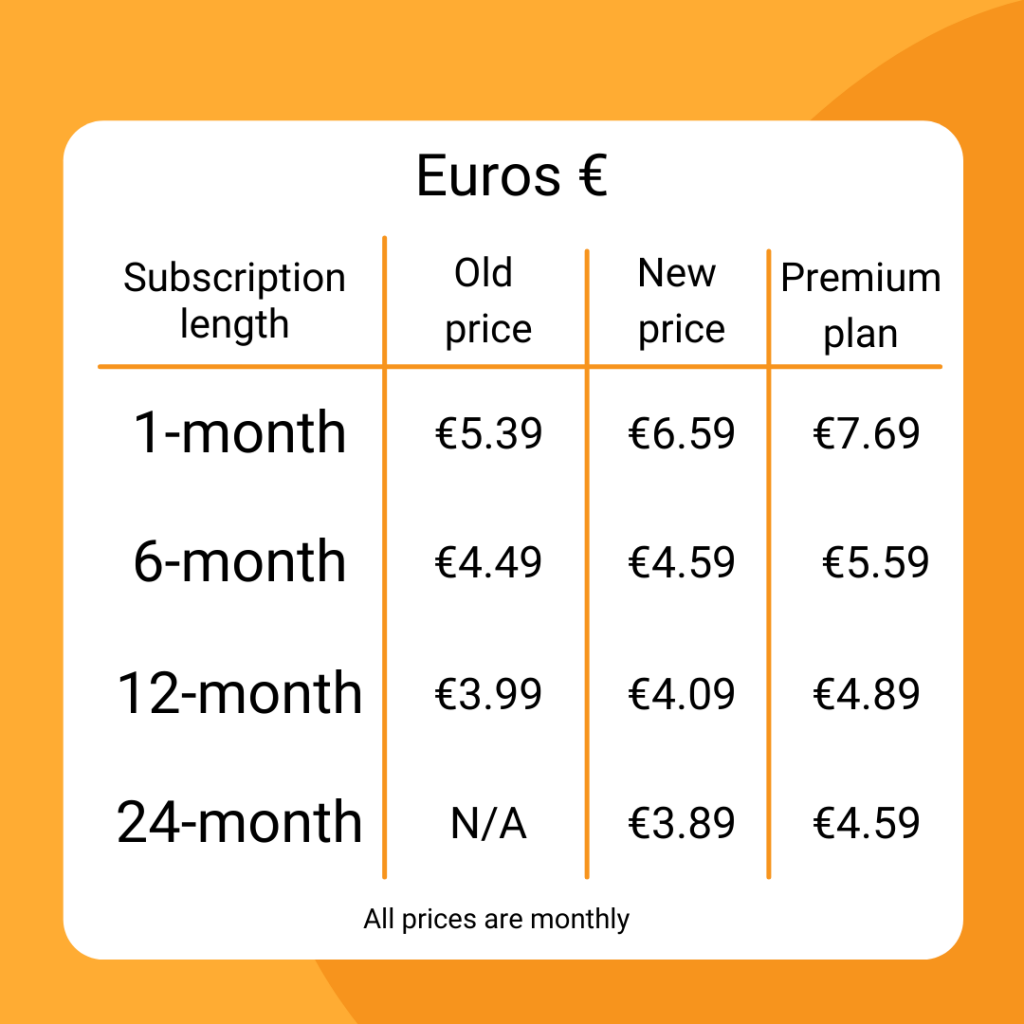 North America (USD): Due to change the falling exchange rate, the North America subscription fee will be increased as follows
We welcome any and all feedback you wish to share on the new Premium subscription plan and the changes to subscription prices. You can share your thoughts with us by emailing Support@Pawfit.com.